About ASQSS
The Auckland String Quartet Summer School was launched in 1984 by the Auckland String Quartet and has been directed ever since by Brecon Carter MNZM, Concertmaster Emeritus of the Auckland Philharmonia.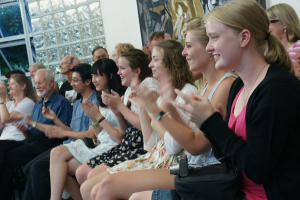 The emphasis is always on chamber music; string quartets in particular. During morning sessions, participants work in groups with direction from individual tutors. Early afternoons are not formally structured, however at 4:30pm there is the opportunity to join the string orchestra which meets once a day.
The small number of participants accepted (about 44) guarantees the intimate atmosphere for which this summer school is well-known. There is plenty of time for practice, formation of groups for further ensemble playing, or simply relaxing. There are tennis courts available and pleasant walks, including a dawn trek up Mount St. John for the exercise-minded. Some traditions, such as late evening music making, have endured from year to year, and the last night revues are now legendary.
Evening public concerts presented by the tutors and guest artists provide inspiring conclusions to memorable days. In recent years, we have had a series of wonderful guest tutors. In 2021, the Tutors were Yanghe Yu and Rachel Moody (violins), Christine Bowie (viola) and Edith Salzmann (cello). The Tutors gave a public recital on Thursday 1st January 1970. Two other public recitals were given on Thursday 1st January 1970 ( Benedict Lim, violin) and Thursday 1st January 1970 ( the Auckland Trio). All recitals were at 8pm in the Hall at St Cuthbert's College, 122 Market Road, Auckland. Recitals are free to ASQSS participants, while for the general public, tickets at the door: Adults $, Seniors $, Students $.
(Click here for the programmes for these public concerts)